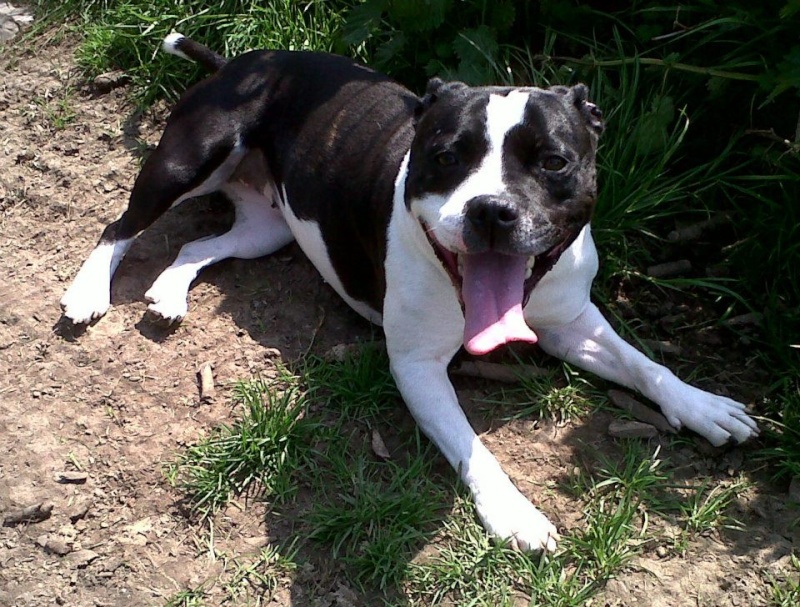 Last edited by Wendy A on Tue Oct 02, 2012 7:02 pm; edited 2 times in total
Wendy-its pay day on Friday. I am happy to help towards

boarding costs to keep her safe until you find her a space

She stunning-dont think she will be anywhere for long. xx

Staffiesrock




Posts

: 38


Join date

: 2012-04-29


Location

: Lancashire



Oh how nice of you, but she is fine at the moment no immediate rush, and she has some interest from a rescue, were just waiting on this little girl getting dog tested, so hopefully she will be a good girl. She is stunning isnt she, she reminds me of kaia.

Thanks though for your nice offer

Shes totally beautiful-well-if you dont need my money!!!!

Will be really pleased if she gets a rescue space-she will get snapped up quickly.

Staffiesrock




Posts

: 38


Join date

: 2012-04-29


Location

: Lancashire



Thank you that is so kind of you, but im sure she will be on her way soon. xx
Great news Holly did great on her dog test

and is now going to rescue in a few weeks time! she is going to Bully befrienders in Cornwall with Cody.
Great news about Holly and Cody. Holly looks so much like my Daisy, lil pretty face and same colouring.

Fingers crossed they find their forever homes soon. Big thanks to the rescue who took them on! It was also great to hear about Mickey, so wonderful that Rescue Remedies took him on at the last minute. Great job girls, you are doing wonderful job! I think is time I send another cheque your way to help with some fuel costs etc.

Same addy as before Wendy?

Devy




Posts

: 30


Join date

: 2012-03-19


Location

: Northants



Thank you so much Ronnie, so nice of you, donate button is here, or bank account details
http://www.safe-and-sound.org/

Thanks for the info. Donation is on its way, little something to help with the cost of fuel to get them to safety.


Devy




Posts

: 30


Join date

: 2012-03-19


Location

: Northants



Thank you so much Ronnnie your a star, lots going to rescue in next few days, thank goodness as so many arriving in the pound this week

I know, so many needy dogs everywhere

I just wish people wouldn' t dispose of animals so easily.....

Devy




Posts

: 30


Join date

: 2012-03-19


Location

: Northants




---
Permissions in this forum:
You
cannot
reply to topics in this forum