URGENT RESCUE SPACE NEEDED (Not ready for rehoming)
COSTA - Will be PTS Monday 5th August
SBT puppy, entire male. White with large blue patches across both eyes. Approx. 4-6 months old. Despite his poor (and painful) physical condition, Costa is a happy chappie, a very playful, loving little puppy. Costa is now on medication and being given medicated baths. Neutering voucher available. 1st vaccination given. To donate to Costa's rescue fund, please visit:
https://sites.google.com/site/teamsaspledges/home/costa
Costa will be put to sleep on 5th August 2013 if no suitable rescue space is found and no funds are available for emergency boarding.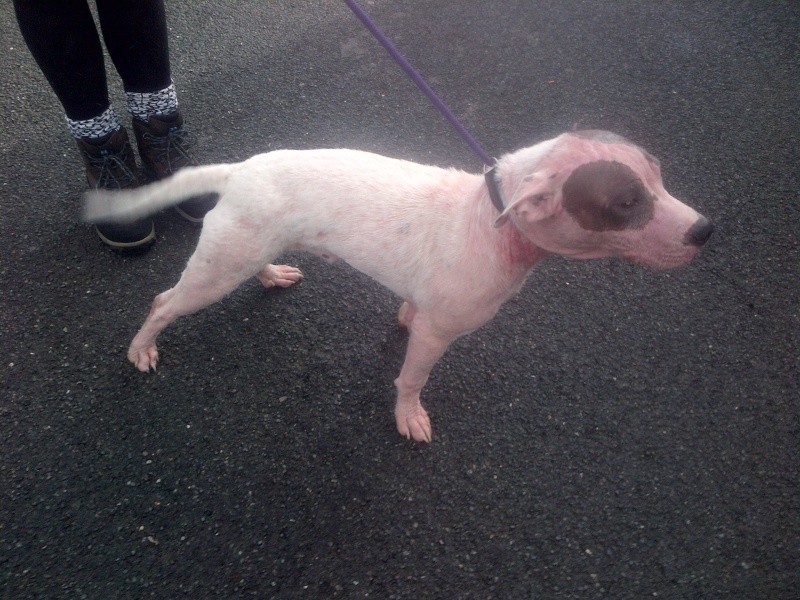 Last edited by Wendy A on Wed Jul 31, 2013 8:53 pm; edited 1 time in total
As you can see, poor Costa is riddled with demodex mange and is very sore and itchy at the moment'. We need someone to step up for this puppy asap

Great news Costa has just had a space offered by a lovely rescue in Scotland, we are so happy

---
Permissions in this forum:
You
cannot
reply to topics in this forum