SBT male, entire, 3-4 yrs old, extremely handsome. Slight flea allergy and had a thinning patch on his tail. Biggie probably has a sad story to tell as he is very scared of new people and is quite nervous. He takes a little while to make friends but once he does he is very sweet & loving. Biggie needs sensitive handlers who will build up his trust and let him do things in his own time. He has been very good with the dog warden and has been hanging out under her desk, venturing out to say hello once he gained his confidence. The vet who examined him for his vaccination had no problems touching him either but the pound say he has growled at one of their staff when she handled him, so they do not want him. Biggie has met other dogs and showed no signs of aggression towards them. Biggie will be PTS Friday 9th November. —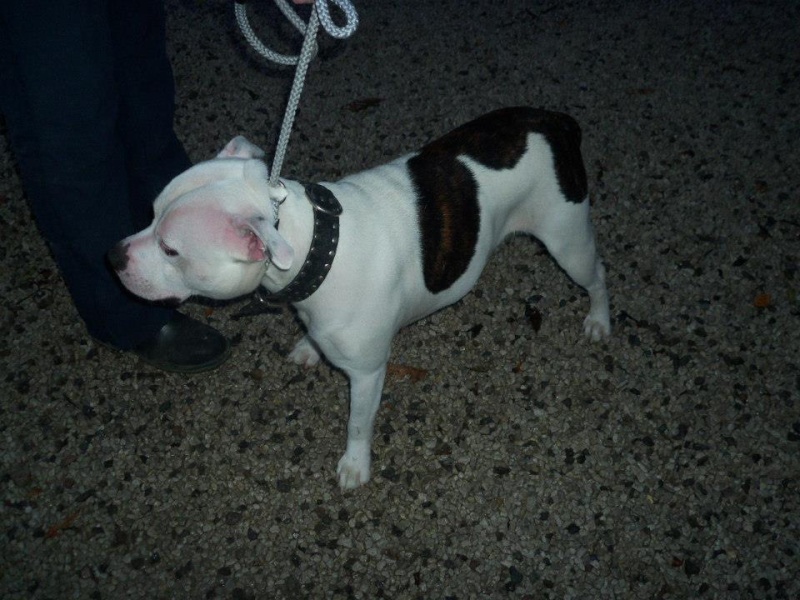 Last edited by Wendy A on Tue Nov 13, 2012 8:09 pm; edited 2 times in total
We are moving both Snoopy and Biggles to emergency boarding this afternoon. We would like to say a HUGE thank you to everyone who has helped to make this happen by donating to our emergency boarding appeal. Please don't forget about them. This is just the start of their journey - the will not be truly 'safe' until they have a rescue looking after them. We need you all to keep sharing them and keep them in the public eye. We will be working flat out to find them a suitable rescue space each as soon as we can, but we know we have a tough job ahead of us. Please help us to make sure these precious poundies are not forgotten in the meantime
Biggles will be assessed this week
It is with a heavy heart that we inform our supporters that tragically, Biggles was destroyed today, Monday 12th November 2012.

On Thursday 8th November, with the agreement of the local authority concerned, we transferred both Biggles and Snoopy to emergency boarding arranged and funded by Safe and Sound.

This morning, a member of the council's dog control team went into these private boarding kennels, and, having decided with kennel staff that both dogs were 'unrehomable', removed Biggles - a dog supposedly under the care of Safe and Sound - without our consent and destroyed him immediately.

By the time we discovered what they were doing, poor Biggles was already dead. We then found that plans were in motion for Snoopy to meet the same fate later today. We have spent all day today trying to prevent Snoopy's destruction and secure his release back into our care. After extensive negotiations, Snoopy is now en route to another emergency boarding facility where we hope he will be truly safe from those intent on destroying him.

This outrageous sequence of events has shaken Team S.A.S to the core. Devastated is an understatement. To have saved Biggles from being put to sleep, to have transferred him to what we believed was a safe haven only for him to have then been removed and killed without our knowledge or consent has been extremely distressing for all of us.

Please bear with us at this difficult time.

---
Permissions in this forum:
You
cannot
reply to topics in this forum