SNOOP NEEDS A VERY SPECIAL RESCUE SPACE IMMEDIATELY (not for rehoming) - PTS FRIDAY 9th Nov
Red/tan Mastiff x SBT male, neutered & 1st vacc given. Approx 3yrs old. Snoop is a lovely boy, happy and friendly, but does not like to be held closely, particularly around the head area- this makes him very nervous & distressed - he will grab his lead to show his concern. Snoop will calm down once he is given his space back but is then very wary and suspicious incase it happens again. Appears in good health. Snoop does not like cats but shows no aggression to other dogs. Chipped but owner not contactable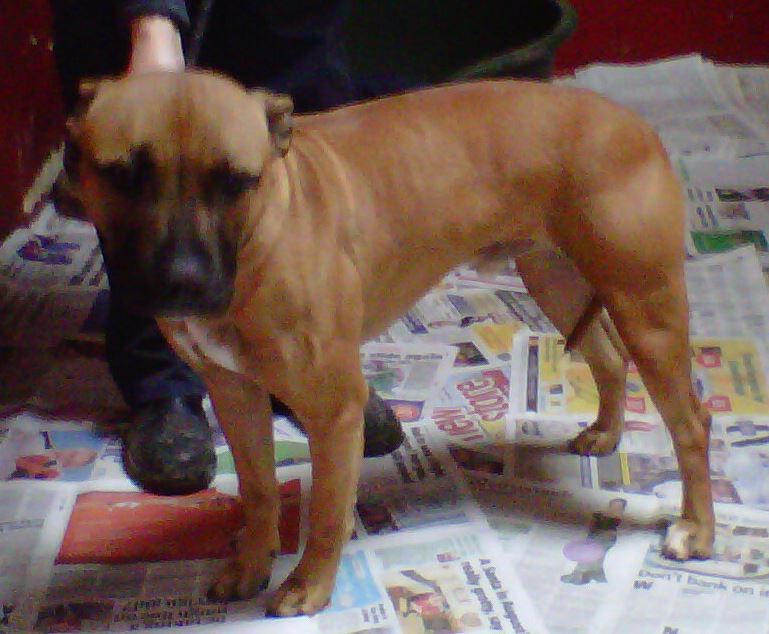 Last edited by Wendy A on Tue Jul 02, 2013 7:19 pm; edited 3 times in total (Reason for editing : update topic title)
We are moving both Snoopy and Biggles to emergency boarding this afternoon. We would like to say a HUGE thank you to everyone who has helped to make this happen by donating to our emergency boarding appeal. Please don't forget about them. This is just the start of their journey - the will not be truly 'safe' until they have a rescue looking after them. We need you all to keep sharing them and keep them in the public eye. We will be working flat out to find them a suitable rescue space each as soon as we can, but we know we have a tough job ahead of us. Please help us to make sure these precious poundies are not forgotten in the meantime.
Snoopy will be assessed this week
Snoopy was very hastily moved from the boarding kenenls that allowed his friend Biggles to be murdered. At least you are now safe baby away from those nasty people.
I sent this gorgeous boy a Christmas present at his kennels.Hope he likes it.


Staffiesrock




Posts

: 38


Join date

: 2012-04-29


Location

: Lancashire



Oh bless you thanks so much Carolyn xxx All the very best for Christmas to you yuor family and all the doggies xx
SNOOPY - waiting for a rescue space since 12.11.2012
SBT male, approx 3-4yrs old. Snoopy is a loving and extremely loyal dog who bonds closely to his handler. He was clearly a much loved pet once: he has been microchipped, neutered and knows all the basic commands. He is also housetrained - he has been spotless in his kennel over the last 6 months. Like many terriers, his recall is selective at times but he will gladly return if you make it worth his while. He is not a barky dog, Snoopy is very happy to sit in his kennel and watch the world go by. With correct introductions, Snoopy seems ok with other dogs although he is worried by very dominant dogs. Snoopy is neither toy nor food possessive. He will jump up at rope leads and try to entice you into a game of tug, but ignoring and refusing to engage with him soon sorts this. Snoopy does jump up when he gets exited and may nip, but this is playful and in no way aggressive. Kennel staff feel these things could be easily sorted by the right rescue and someone who can gain his trust.
Snoopy has clearly suffered some kind of trauma relating to needles - he is EXTREMELY worried by them and kennel staff have found it IMPOSSIBLE to vaccinate him. If Snoopy has any indication that a needle is approaching he becomes very defensive and will snarl and eventually bite, if the threat from the needle is not removed.
Snoopy was abandoned in November 2012 and found himself alone and afraid in a Midlands pound. He was quickly written off as 'human aggressive' with possessive tendancies that could not be worked on and was earmarked for immediate destruction. We pulled him to the safety of our EB and he has been there ever since, stuck in Limbo.
Snoopy is not a bad dog; he is a traumatised dog. He needs the understanding of someone able to meet his needs and help him move forward in his life. He will make a wonderful companion, all he needs is a chance.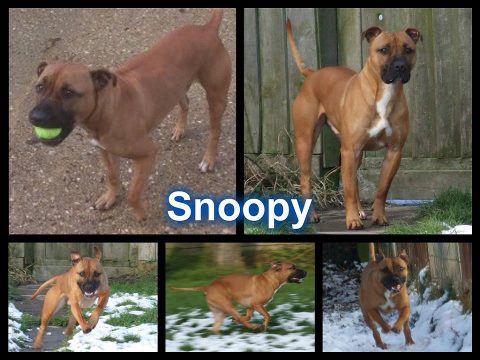 janaclare




Posts

: 36


Join date

: 2013-03-07


Location

: Petersfield



Snoopy moving today to a new eb until his rescue his ready for him, poor Snoopy has waited 8 months for rescue
You are moving to rescue this week boy so happy, you have been waiting since November 12, but you will find a home now Snoopy

Snoopy our longest ever boarder since Nov 12 has now got rescue !

---
Permissions in this forum:
You
cannot
reply to topics in this forum