FUNDS NOW RAISED - THANK YOU 
Poor Samson found himself in the pound at 13 yrs old. He only has one eye, and appears to have a skin condition.
Samson is a very friendly boy who has been no trouble at the pound. Samson is not at one of our usual pounds and we have plenty of other dogs to sort out, but his little face has really got to us. This senior staffie gent is due to be PTS on Tuesday. We cannot let that happen.
We have managed to secure a rescue space for poor Samson; HOWEVER, with the summer holidays almost upon us and private boarding kennels at their busiest, the receiving rescue has no kennel available until early September!
We will need to hold Samson in our Emergency Boarding until they are able to find him a suitable foster home for him - they anticipate this is likely to take a while. We need to raise at least 6 weeks' boarding fees for Samson (ideally  to cover him until the receiving rescue is able to take him into their care.
We are hoping we can find 30 fairy dog mothers who will donate £10 each to Samson's kennelling, transport and veterinary costs.
Could you be Samson's fairy dog mother?
Wait for it......................... here he is but read next post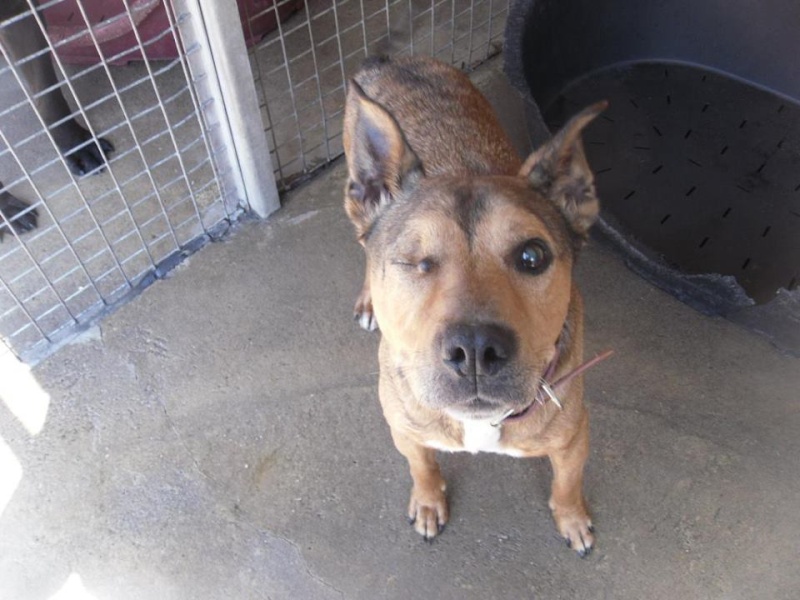 Update on Samson...

A small miracle happened late last night. One of our favourite rescues spotted our appeal for emergency boarding funds for Samson and fell in love with him. They have very kindly offered him a place at their sanctuary! Samson will not now be going into kennels, he will have a much more comfortable time of it now. Holding the important position of The Office Dog, Samson will spend his days chilling out with the centre staff until his new home comes along.

We will be contacting those people who very kindly donated kennelling funds for Samson later today to offer them a refund. Thank you all so much for your help.


We are very lucky that everyone said Tina the other dog we saved today, we could keep towards her boarding as she has got rescue yet, but so happy for Sampson, he now has the perfect rescue to go to in 3 days or so, now he is in emergency boarding with little Tina who we saved too.
a message from the man that took Sampson to his new rescue
This one's a "happy ending" to a Sheffield Forum saga. Samson escaped from his home and ended up in the pound. With owners unable to pay the release fee it looked bad for Samson, until people chipped in to pay for his release, being as he's an elderly gentleman with one eye, a history of spinal problems and a gammy leg. So that was supposed to be the happy ending..
BUT...
He escaped again, and was retrieved by someone at the RSPCA and returned home.
Then for a third time he was allowed to get out and again found his way into the pound and this time with sympathies for the owner at a low, what would become of this chap?
But not all was lost...people had heard about Samson and began to look for his lifeline. Thanks to Safe & Sound, a rescue space was found BUT not until the end of summer. Again people chipped in to pay for his emergency boarding, meaning he would be safe but faced a long time in kennels - and there are not as many people looking for a one eyed flatulent elderly limping crossbreed.

Then finally Samson's prayers were answered and he got an unexpected offer of a retirement place at a sanctuary. He will be up for re-homing but in the meantime he will be a sanctuary dog, no miserable, lonely kennels.
A lovely old gent, quiet but inquisitive and friendly. I have a feeling that he may end up seeing his days out there and being very happy
Apparently he's SBT cross but there's a few more mixes in there by the look of him! Although he does have a hard head like a staff when he turns his head on his blind side and crashes into your leg! 
http://www.safe-and-sound.org/

---
Permissions in this forum:
You
cannot
reply to topics in this forum